The Pantry
What good is microwave cooking without food? We all have memories of that special treat we had as a kid or you have acquired a taste for some gourmet delicacies. Maybe it was something your Italian grandmother used to make. Can't find it at your local grocery store? Try looking at one of these online sites. From your morning coffee to a fabulous dessert to top off your evening meal, and everything in between, we've found some great sites to tempt your palate!
Please visit Ingredients in the Microwaving Tips section for tips on shopping and storing ingredients, especially when cooking for one!

Adagio Teas — A small but nimble family-owned company that began with a mother's passion for tea. She imprinted on her sons, the company's founders, the idea that tea was important, and good tea was an integral part of a good life. Her children grew up drinking their Mom's special blend of Indian and Chinese teas, which she served guests in lieu of coffee. The brothers, armed with mom's passion for tea, created an online tea store they called Adagio, a musical term meaning slow, or at ease. The word perfectly captured the idea that tea helps us unwind, slow down and relax. All the teas offered come direct from the farmers who painstakingly cultivate them.

Amazon — When you think about shopping for groceries, your first thought is probably not to look at Amazon. In recent years the online retailer famous for selling books now offers a wide assortment of food that you can have delivered to your front door.
Chicago Steak Company — Since 1865 with the founding of the Union Stock Yards, Chicago has been at the heart of high-quality American meats. Chicago Steak Company proudly carries on that tradition. They specialize in hand-cut, Mid-West raised, USDA Prime beef — in short, the very best steaks your money can buy. They raise, trim, and age our steaks using centuries-old techniques, then vacuum-seal each individually, locking in flavor and freshness. When you bite into a Chicago Steak Company steak, you're tasting quality that goes back generations. You will taste our commitment to tradition in every Chicago Steak Company steak as our steaks are sourced exclusively from Mid-West raised heritage cattle. This selective sourcing gives our steaks the prized tenderness, marbling, and flavor that can only come from superior growing conditions and bloodlines.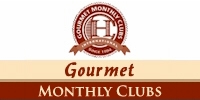 Gourmet Monthly Clubs — What's your guilty pleasure? If it is beer, cheese, chocolate or wine, indulge your passion by subscribing to one of these fantastic monthly Gourmet Monthly Clubs.
Hale Indian River Groves — Hale Groves is fortunate to have a special combination of rich soil, ample water supply, and moderate climate — very rarely reaching a freezing temperature. All this, combined with modern grove management, are contributing factors that make Hale Groves' oranges and grapefruit the juiciest and best tasting you will find.