Table of Contents and Sample Recipes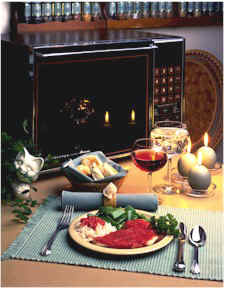 It is our intention here to provide you a sampling of the recipes in Microwave Cooking for One because we believe that once you've tried a few, you'll want the entire collection.
If you have been cooking for many years, no one cookbook will completely change the type of foods or spices you prefer. Once you master a number of dishes designed for cooking in the microwave, you will soon find yourself adapting your favorite recipes to microwave cooking. Microwave Cooking for One is intended as a workbook to help you in that process and to help beginning cooks as well.
IMPORTANT! Before attempting these or any other microwave recipes, it is highly recommended that you read about Timing and Equipment in the Microwave Cooking Tips section of this web site in order to obtain the best cooking results from your microwave oven.
Click on a topic below to see a list of recipes in that chapter of Microwave Cooking for One and find your free recipe from that chapter (except pies).