Microwave Breakfast
Below the list of recipes contained in the Breakfast chapter of Microwave Cooking for One, is one recipe for you to enjoy. Take some time and explore the other chapters. Once you've tried a few of the recipes, you'll want the entire collection!
Hot Cereal
Oatmeal
Cream of Wheat
Grits
Stewed Prunes
Flaky Homemade Biscuits
Refrigerator Biscuits
Cinnamon Toast
French Toast
Buttermilk Pancakes
Leslie's Favorite Griddle Cakes
Whole-Wheat Pancakes
Soft-Boiled Egg
Sunny-Side-Up Egg
Egg Over Easy
Egg Parmesan
Poached Egg on Toast
Ham and Eggs
Bacon (recipe available)
Fresh Sausage Pattie
Fresh Link Sausage
Smoked Country Sausage
Fully Cooked Frozen Sausage

1 extra-large egg or 2 small eggs
2 tsp. milk
pinch of salt
pinch of black pepper
½ tsp. butter (optional)
Break egg into 1-quart mixing bowl. Add milk, salt, and pepper. Beat well with wire whisk. Add butter to mixture. Cook 1 minute (_____) at 100% power until about 1 tbsp. Of egg remains uncooked. Mix egg well with rubber spatula and serve. Egg will be moist. If dry eggs are preferred, cook 5 seconds (_____) more at 100% power. Mix with rubber spatula and serve.
NOTE: Cooking times are for a 700-watt oven. For best results with this and any other microwave recipe, please be sure to go to the Timing Section of Microwaving Tips for a complete explanation of timing in the microwave.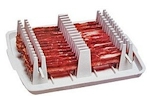 Bacon Wave is the amazing patented breakthrough that cooks perfect bacon in any microwave. It's special configuration lets you fit up to 14 full strips of bacon. It's designed to prevent curling and breakage. It's special design allows fat and grease to drip into it's lower pan away from bacon. Less grease, fat, cholesterol, and calories. Bacon Wave is stackable, allowing you to cook up to 28 strips of bacon at a time with the purchase of additional trays. Dishwasher Safe.
Microwave Omelet Maker — Here's the answer to a hot, fast and healthy meal! The microwave omelet maker will have a tasty dish ready for your enjoyment in minutes. Great for a quick meal any time of day. Plastic. Microwave and freezer safe. Top rack dishwasher safe. (This is equivalent to the Perfect Omelet seen on television, but for much less.)

Microwave Four Egg Poacher — Preparing one to four eggs is quick, easy, and healthy with this microwave poacher. A single egg is ready in just 30 seconds, while two minutes is all it takes to cook eggs for four. Dishwasher-safe.