Microwave Desserts
Below the list of recipes contained in the Desserts chapter of Microwave Cooking for One, is one recipe for you to enjoy. Take some time and explore the other chapters. Once you've tried a few of the recipes, you'll want the entire collection!
Peach Soufflé
Rhubarb Crisp

Remove skin and core of apple with peeler/corer. Place apple in 1½-pint Menu-ette*.
2½ tbsp. water
2 tbsp. honey
1/8 tsp. grated lemon peel
1 drop red food coloring
Mix remaining ingredients in custard cup. Pour over apple. Cover Menu-ette with lid. Cook 3:00 minutes (_____) at 100% power, basting apple with liquid after each minute of cooking time. Baste several times with liquid while apple is cooling. To serve, put apple and 1 tbsp. of liquid in dessert bowl.
NOTE: Cooking times are for a 700-watt oven. For best results with this and any other microwave recipe, please be sure to go to the Timing Section of Microwaving Tips for a complete explanation of timing in the microwave.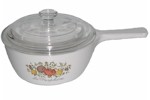 The CorningWare Menu-ettes are especially helpful when cooking for one in the microwave.
Search for 1-Pint and 1½-Pint Menu-ettes Available at eBay