Microwave Fish and Shellfish
Below the list of recipes contained in the Fish and Shellfish chapter of Microwave Cooking for One, is one recipe for you to enjoy. Take some time and explore the other chapters. Once you've tried a few of the recipes, you'll want the entire collection!
Fish Fillet With Bread Crumbs
Momma's Breaded Fish
Fried Fish
Batter-Fried Fish
Lemon-Batter Fish
Cheddar Fish Fillet
Parmesan Fish Fillet
Fish Fillet With Tomato
Flounder with Stuffing
Flounder Swiss
Flounder Vermouth
Breaded Fish Steak
Smelts
Fried Scallops
Steamed Crabs
Crabmeat Thermidor
Lobster Tail
Lobster Thermidor
Spiced Steamed Shrimp
Shrimp on Cheese
Baked Shrimp
Momma's Fried Shrimp
Cheese-Stuffed Shrimp
Shrimp In A Bag
Shrimp Egg Foo Yung
Coquilles St. Jacques
Tracy's Favorite Seafood Muffin

Note: This dish is great to serve to guests. Tripling the recipe (12 shrimp) will fill a dinner plate before cooking. When cooked, the shrimp coil around the stuffing and create a perfect ring of pink shrimp on a plate. Cooking time is 3:30 minutes (_____) at 100% power.
Peel shrimp and slit each down the back three-quarters of the way through. Flatten into butterfly shape and devein. Rinse off with water and place on a paper towel to drain.
2 tsp. butter
1 tbsp. chopped fresh or frozen onion
Put butter and onion into Menu-ette Skillet*. Cook 45 seconds (_____) at 100% power.
1/3 cup fresh bread crumbs*
(grate ¾ oz. piece of bread)
¼ tsp. dried parsley or
¾ tsp. minced fresh or frozen parsley
1/16 tsp. salt
pinch of tarragon
Add remaining ingredients to skillet. Mix well with rubber spatula. Arrange shrimp on paper plate with tails in center. Spread bread crumb mixture evenly over shrimp, covering them completely. Cover plate with paper towel. Cook 1:30 minutes (_____) at 100% power, giving plate a half turn halfway through cooking time. (Autorotating oven: Eliminate turn.) Place shrimp in emptied skillet and serve.
*White bread is acceptable, but whole-wheat bread adds extra flavor to the stuffing.
NOTE: Cooking times are for a 700-watt oven. For best results with this and any other microwave recipe, please be sure to go to the Timing Section of Microwaving Tips for a complete explanation of timing in the microwave.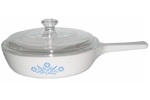 The CorningWare Menu-ette Skillet is useful when cooking in the microwave.
Search for CorningWare Menu-ette Skillets Available at eBay