Microwave Other Meats
Below the list of recipes contained in the Other Meats chapter of Microwave Cooking for One, is one recipe for you to enjoy. Take some time and explore the other chapters. Once you've tried a few of the recipes, you'll want the entire collection!
Veal Au Jus
Veal Cutlets
Liver and Bacon
Barbecued Beef Liver
Liver and Onions
Liver Stroganoff
Liver with Stuffing
Lamb Pattie
Lamb Chop
Momma's Breast of Lamb
Pan-Broiled Pork Chop
Tender Pork Chop
Spanish Pork Chop
Breaded Pork Chop
Pork Minute Steak
Barbecued Pork Ribs
Pork in a Bag
Pork Roast
Ham Slice
Hungarian Bacon and Tomatoes
Sausage Stroganoff
Beans and Franks
Cheese and Franks

Wash pepper. Remove and discard core and seeds. Slice pepper and place on paper plate. Cover plate with paper towel. Cook 3:30 minutes (_____) at 100% power. Set aside.
Peel and slice onion. Place on paper plate and cover with paper towel. Cook 2:00 minutes (_____) at 100% power. Set aside.
Cut sausage into 4-inch links. Puncture several holes in each link with fork. Place in 8½" browning skillet*. Cook 1:30 minutes (_____) at 100% power. Turn links over with finger tongs. Cook 1:15 minutes (_____) at 100% power. Push sausage to center of skillet and surround with cooked peppers and onions. Cover skillet with lid. Cook 2:00 minutes (_____) at 50% power. Let stand 1 minute and serve in skillet.
NOTE: Cooking times are for a 700-watt oven. For best results with this and any other microwave recipe, please be sure to go to the Timing Section of Microwaving Tips for a complete explanation of timing in the microwave.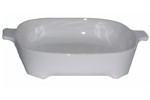 Notice the small feet on the browning skillet? Corning browning utensils have small feet to raise the tin-oxide-coated bottom from the surface. This is the only utensil you should cook empty in your microwave oven. You should never place this utensil in a regular oven, or use it on your stovetop.
Search for Browning Utensils Available at eBay