Microwave Poultry
Below the list of recipes contained in the Poultry chapter of Microwave Cooking for One, is one recipe for you to enjoy. Take some time and explore the other chapters. Once you've tried a few of the recipes, you'll want the entire collection!
Chicken with Mushrooms
Chicken and Broccoli
Chicken Marengo
Spicy Italian Chicken
Chicken Teriyaki
Momma's Chicken Cacciatore
Stuffed Chicken Breast

8 oz. chicken with skin and bones
1 tbsp. grated Parmesan cheese
1 tbsp. Italian bread crumbs
Wash chicken and drain on paper towel. Put cheese and bread crumbs on a 12-inch piece of waxed paper. Roll chicken in mixture until coated. Place chicken skin side down in Menu-ette Skillet. Cover skillet with paper towel. Cook 2:00 minutes (_____) at 100% power. Turn chicken over and sprinkle any remaining crumb mixture over chicken. Cover skillet with paper towel. Cook 2:20 minutes (_____) at 100% power. Let stand 2 minutes. Serve in skillet.
NOTE: Cooking times are for a 700-watt oven. For best results with this and any other microwave recipe, please be sure to go to the Timing Section of Microwaving Tips for a complete explanation of timing in the microwave.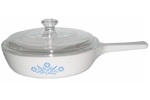 The CorningWare Menu-ette Skillet is useful when cooking in the microwave.
Search for CorningWare Menu-ette Skillets Available at eBay