Microwave Puddings and Custards
Below the list of recipes contained in the Puddings and Custards chapter of Microwave Cooking for One, is one recipe for you to enjoy. Take some time and explore the other chapters. Once you've tried a few of the recipes, you'll want the entire collection!
Old-Fashioned Bread Pudding
Chocolate Bread Pudding
Momma's Pudding
Caramel Pudding
Chocolate Pudding
Fluffy Chocolate Pudding
Momma's Rice Pudding
Fluffy Vanilla Pudding
Custard
Chocolate Custard
Chocolate Mousse
Apple Cherry Gelatin
Tapioca Fluff

1 small egg
2 tbsp. plus 2 tsp. sugar
1 tbsp. all-purpose flour*
1 tbsp. lemon juice
1/8 tsp. grated lemon rind or dried lemon peel
3 tbsp. milk
Place egg, sugar, and flour in 2-cup liquid measure. Beat with electric mixer until thick. Add lemon juice and lemon rind and mix. Add milk and beat until well mixed. Pour into 8-oz. Ceramic custard cup. Set aside.
Pour water into 1½-pint Menu-ette**. Cook 1:00 minute (_____) at 100% power. Carefully place custard cup in hot water. Cook 55 seconds (_____) at 100% power. Turn Menu-ette halfway around. Cook 50 seconds (_____) at 100% power. (Autorotating oven: Eliminate turn.) Serve warm or chilled. If chilled pudding is weepy when eaten, increase cooking time a little next time so pudding will stay firm when chilled.
*For a more cake-like pudding, increase flour to 3 tbsp. Cooking time remains the same.
NOTE: Cooking times are for a 700-watt oven. For best results with this and any other microwave recipe, please be sure to go to the Timing Section of Microwaving Tips for a complete explanation of timing in the microwave.


Deep Dish 10-Ounce Custard Cups Set of 4 — Use these little Pyrex glass dishes for custards, flan, baked apples and other individually baked desserts. They can also be pressed into service for ice cream, pudding, warming up a small portion of macaroni and cheese, well, you get the idea. Oven, microwave and dishwasher safe.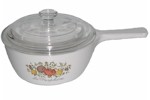 The CorningWare Menu-ettes are especially helpful when cooking for one in the microwave.
Search for 1-Pint and 1½-Pint Menu-ettes Available at eBay