Microwave Sauces and Preserves
Below the list of recipes contained in the Sauces and Preserves chapter of Microwave Cooking for One, is one recipe for you to enjoy. Take some time and explore the other chapters. Once you've tried a few of the recipes, you'll want the entire collection!
Spicy Barbecue Sauce
Sweet and Spicy Barbecue Sauce
Southern Barbecue Sauce
Instant Cheese Sauce
Supreme Cheese Sauce
Cranberry Sauce
Mornay Sauce
Pasta Sauce
Vegetarian Pasta Sauce
About Preserves
Before I started using a microwave oven, I thought it was wasteful to buy a whole box of strawberries or blueberries because I could not eat them all by myself. Now I can enjoy a bowl of strawberries and cream or make Blueberry Streusel Cake and turn the leftover fruit into microwave preserves. The reduced amount of sugar in these recipes brings out the taste of the fruit.
Blueberry Preserves
Peach Preserves
Italian Plum Preserves

6-oz. apple
¼ cup water
2 whole cloves
1½ tsp. light brown sugar
Peel and quarter apple and remove core. Cut into ½-inch cubes. Place in 1½-pint Menu-ette.* Add water and cloves. Cover Menu-ette with lid. Cook 6:00 minutes (_____) at 100% power. Remove and discard cloves. Mash mixture with potato masher. Cook 1:00 minute (_____) at 100% power. Add sugar, stir, and serve.
*When doubling recipe, cook in a Gravy Maker Pot to avoid applesauce boiling over.
NOTE: Cooking times are for a 700-watt oven. For best results with this and any other microwave recipe, please be sure to go to the Timing Section of Microwaving Tips for a complete explanation of timing in the microwave.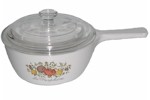 The CorningWare Menu-ettes are especially helpful when cooking for one in the microwave.
Search for 1-Pint and 1½-Pint Menu-ettes Available at eBay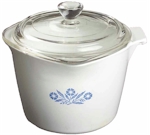 The CorningWare 1-Quart Gravy Maker Pot (sometimes called a Sauce Maker) is useful in avoiding boil over when cooking in the microwave.