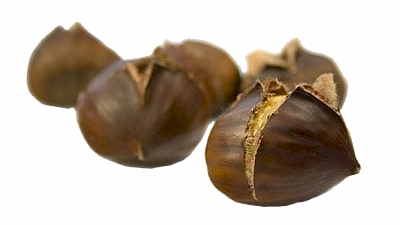 Microwave Beverages and Snacks
Below the list of recipes contained in the Beverages and Snacks chapter of Microwave Cooking for One, is one recipe for you to enjoy. Take some time and explore the other chapters. Once you've tried a few of the recipes, you'll want the entire collection!
Spiced Apple Cider
Hot Orange Drink
Hot Spiced Wine
Hot Cocoa
Irish Coffee with Whipped Cream
Plantains
Green Plantains (Tostones)
Roasted Garbanzo Beans
Popcorn

Note: Chestnuts are very low in calories because of their low fat content. Store raw chestnuts in the refrigerator for no more than a few weeks; longer storage will cause them to lose their moisture.
Carefully cut a slit in the shell of each chestnut to prevent exploding. Place chestnuts in a circle on a paper plate. Cook 1:30 minutes (_____) at 100% power. Allow chestnuts to cool 2 minutes before serving.
NOTE: Cooking times are for a 700-watt oven. For best results with this and any other microwave recipe, please be sure to go to the Timing Section of Microwaving Tips for a complete explanation of timing in the microwave.