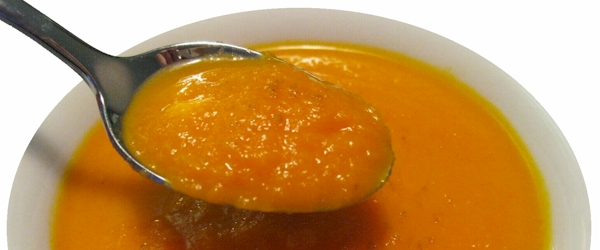 Microwave Soups
Below the list of recipes contained in the Soups chapter of Microwave Cooking for One, is one recipe for you to enjoy. Take some time and explore the other chapters. Once you've tried a few of the recipes, you'll want the entire collection!
Asparagus Soup
Cheese Soup
Chicken Stock
Cucumber Soup
Momma's Escarole Soup
Fish Chowder

½ tbsp. butter
2 tbsp. chopped fresh or frozen onion
1 cup chicken stock (see recipe) or
1 cup water with 1 chicken bouillon cube
½ tsp. sugar
4 oz. sliced fresh or frozen carrots
Put butter and onion into Gravy Maker Pot*. Cook 1 minute (_____) at 100% power. Add stock, sugar, and carrots. Cover pot with lid. Cook 2 minutes (_____) at 100% power. Stir. Cook 8 minutes (_____) at 100% power.
1/16 tsp. of salt
pinch of cinnamon
pinch of nutmeg
Pour the contents of pot into blender. Add salt, cinnamon, and nutmeg to blender and liquify. Pour into soup bowl and serve.
NOTE: Cooking times are for a 700-watt oven. For best results with this and any other microwave recipe, please be sure to go to the Timing Section of Microwaving Tips for a complete explanation of timing in the microwave.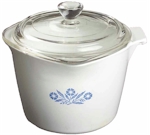 The CorningWare 1-Quart Gravy Maker Pot (sometimes called a Sauce Maker) is useful in avoiding boil over when cooking in the microwave.
Search for Gravy Maker Pots Available at eBay