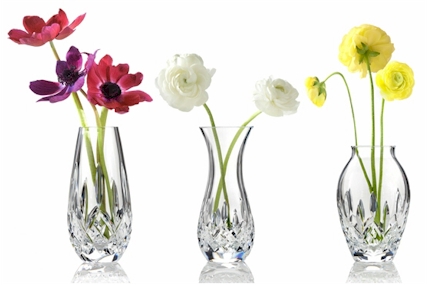 Waterford Crystal & Fine China
The company of Waterford was first established in 1783 on land adjacent to Merchants' Quay in the heart of the Irish harbor town of Waterford. Its founders were two brothers, William and George Penrose, who were important developers and principal exporters in the city. Their vision was to "create the finest quality crystal for drinking vessels and objects of beauty for the home." More than two hundred years later, the reputation they established for creating glass of unsurpassed beauty and quality has transcended the intervening centuries.
In 1986 Waterford merged with Wedgwood, maker of fine china, to create an even broader luxury appeal. In addition to partnering with Wedgwood, Waterford also works with Reed & Barton to create classic silver-plated flatware and select ornaments.
Waterford Crystal designs, manufactures and markets an extensive range of crystal objects d'art, stemware and gifts for distribution throughout the world. In recent years, Waterford has built upon its reputation as a leading source of prestigious tabletop and gift products by expanding into several new businesses. Significant expansions into tabletop and gifts have occurred with the launch of the Marquis by Waterford, the addition of Waterford Fine China, Waterford Fine Flatware, and Waterford Holiday Heirlooms, and Waterford Table and Bed Linens. Each of those initiatives reflects the company's commitment to creating prestigious products — for gift giving, entertaining, and home decorating — whose classic designs transcend time
Today, Waterford's principal manufacturing plant stands on a 40-acre site on the outskirts of the city made famous by its glittering product. There are also two other manufacturing plants in County Waterford.