Microwave Cooking for One by Marie T Smith
Shopping for Microwave Safe Dinnerware
Emile Henry Dinnerware and Cookware
The Emile Henry Collections offer a complete range of ovenware and tableware to enhance a tableside brunch, or any entertaining occasion in your home. Dishes are beautiful, but more importantly extremely durable. They can go from the freezer, to the hot oven and directly to the table. The glazes are so hard, you can even cut directly into the dish without scratching. Microwave safe, they make cooking and serving in the same pieces simple. Dishwasher safe, they make clean up a breeze.
Emile Henry Provençal Classic Colors Collection
Emile Henry Urban Colors Collection
Since 1850, Emile Henry cookware and bakeware have been made in Burgundy, where a unique clay is kiln-fired into a ceramic unsurpassed for conducting and retaining heat. Prized worldwide, Emile Henry products come in a wide range of colors, from the bright, modern hues of the Couleurs line (with white interiors), to the translucent, traditional earthtones (with creamy interiors) of the rustic Le Potier line, to the high-gloss glaze and rich, warm Provencal colors. Each piece is stamped with the year it was made and the initials of the craftsman who attested to its perfection.
Heavy, durable stoneware made in Marcigny, France since 1850

Unsurpassed for conducting, retaining heat

Microwave-, oven-, broiler-, dishwasher-safe
Emile Henry is specially adapted for the microwave, allowing the waves to diffuse through the dish and keep food hot on the table. This beautiful line of dinnerware and cookware is ideal for from microwave-to-table cooking, and will truly last you a lifetime! Use a potholder or oven mitt to remove the dish from the oven, as the dish can get hot.
For over almost 150 years, French cooks have considered Emile Henry's fine earthenware dishes essential to a well-equipped kitchen. Renowned for excellent craftsmanship, attractive design and multi-functionality, each piece is beautifully handcrafted from Burgundy clay; has excellent heat conduction, ensures evenness of cooking, and diffuses heat to the very middle of food.
Their Proprietary Ceradon manufacturing process involves high-firing to make this beautiful dishware resistant to breakage and to create a hard, durable glazed finish and resistance to thermal and mechanical shock. These items will not craze, scratch or discolor. The glaze used contains no lead or cadmium content, meet U.S. Federal Drug Administration requirement and California Proposition 65 regulations, making this dishware microwave, oven, freezer and dishwasher-safe, guaranteed to endure from 0° to 500°F. Best of all, the smooth surfaces release foods easily and allows for easy clean up.

It is a very good cookbook and I have yet to find a recipe that didn't turn out as it was supposed to.—Norm Peterson, Arizona
My hubby keeps looking in the cookbook, and asks "when will you cook this recipe?"—Lori Hamby, Florida
Please note: There are several thousand external links throughout the pages of this site. To make navigating simpler for you, we have set up the links so that when you click on the first one, a new browser window will open. When you click on another link, the link will appear in the same window replacing the information of the first link (except eBay auctions, which open a new window with each item clicked on). This way, as you navigate through this site, you will not have to constantly keep closing browser windows. All links to other pages within this site will open in the current window. If a window does not open when you click on a link, check to see if you are running a pop-up blocker, which you may need to turn off in order for the new browser windows to open.
We do not actually sell items directly from this site. Instead, we have done all the work to find the microwave information you are looking for on the Internet, and consolidated it here at this site. When you click on a link for a product, you will be taken to the site that actually offers the product for sale. In some instances, we earn a small commission from the site you visit. This is how we are compensated for the work we have done to bring the information to you. Thank you for supporting this site by making your purchases via the links you click here.
Copyright © 1986, 2000-2013 Marie T. Smith and Tracy V. Grant, All Rights Reserved
[Home Page] [Site Directory] [Microwaving Tips] [Contents & Recipes] [About the Author] [More Recipes] [Shopping for Utensils] [Dinnerware] [Glassware] [Pantry] [Designer Corner] [Order Online] [Links]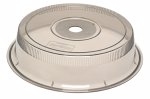 Nordic Ware Microwave Plate Cover — Concentrates heat around food and protects microwave oven against splattering!

This Page Last Modified On 06/04/12