Microwave Cooking for One by Marie T Smith
Shopping for Microwave Safe Dinnerware
Homer Laughlin China Company
Fiestaware
Is it the bright, mix and match colors? Or the timeless yet nostalgic art deco design? Did you first fall in love with an old pitcher at a flea market, or with a gleaming new teapot at a department store? Are you passionate about one particular color or do you fall into "the more the merrier" camp? Avid fans of Fiesta have been collecting it for over six decades, making it one of the most popular china patterns in the world. One of the very best features of Fiestaware is the opportunity to personalize your addiction, um, collection.
Vitrified porcelain

Chip-resistant, heavy restaurant-quality

Oven, microwave and dishwasher safe

Made in USA
The Current Fiesta Colors
The History of Fiestaware
What does Shakespeare have to do with Fiestaware? Well, it all started in 1871, when Homer Laughlin and his brother Shakespeare set up a two-kiln pottery in East Liverpool, on the banks of the Ohio River. It was one of the first whiteware plants in the country. Subsequently the company was bought by the Aaron and Wells families who have operated it since 1897. In 1907 a new plant, with 30 kilns was built, officially relocating the company across the river to Newell, West Virginia, where it remains to this day.
Though the computerized kilns, state of the art production facilities, and decorating equipment that produce it are unmistakably modern, the allure of Fiestaware is definitely in its vintage character. The turning point of the company's artistic focus was in 1927, when noted ceramist Frederick Hurton Rhead joined the team. His design vision culminated in the the 1936 introduction of Fiesta, which continues to be Homer Laughlin's best-selling line and one of the most collected china patterns in the world.
As originally designed, the line featured art deco styling and bold, bright colors. The product was discontinued in 1973 and reissued in 1986 with new contemporary colors to mark its 50th anniversary. Its reintroduction as a high-fire, fully vitrified lead-free product was enthusiastically greeted by both the food service industry and individual consumers.
Fiesta's styling complements a wide range of decors. The bold colors complement one another as well as a wide range of interior palettes. Over 50 items in the line provide maximum service options and ensure consistent tabletop styling. The plate's coupe shape allows maximum food plating surface; sculpted concentric rings highlight and frame the food presentation. Alpha Alumina added to the body enhances durability and provides superior heat retention.
Retired Fiestaware Colors
If you are looking for pieces of Fiestaware not listed above, which have been discontinued, check out our page of Retired Fiesta Colors, or go directly to the color you are looking for:

It is a very good cookbook and I have yet to find a recipe that didn't turn out as it was supposed to.—Norm Peterson, Arizona
My hubby keeps looking in the cookbook, and asks "when will you cook this recipe?"—Lori Hamby, Florida
Please note: There are several thousand external links throughout the pages of this site. To make navigating simpler for you, we have set up the links so that when you click on the first one, a new browser window will open. When you click on another link, the link will appear in the same window replacing the information of the first link (except eBay auctions, which open a new window with each item clicked on). This way, as you navigate through this site, you will not have to constantly keep closing browser windows. All links to other pages within this site will open in the current window. If a window does not open when you click on a link, check to see if you are running a pop-up blocker, which you may need to turn off in order for the new browser windows to open.
We do not actually sell items directly from this site. Instead, we have done all the work to find the microwave information you are looking for on the Internet, and consolidated it here at this site. When you click on a link for a product, you will be taken to the site that actually offers the product for sale. In some instances, we earn a small commission from the site you visit. This is how we are compensated for the work we have done to bring the information to you. Thank you for supporting this site by making your purchases via the links you click here.
Copyright © 1986, 2000-2013 Marie T. Smith and Tracy V. Grant, All Rights Reserved
[Home Page] [Site Directory] [Microwaving Tips] [Contents & Recipes] [About the Author] [More Recipes] [Shopping for Utensils] [Dinnerware] [Glassware] [Pantry] [Designer Corner] [Order Online] [Links]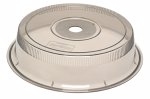 Nordic Ware Microwave Plate Cover — Concentrates heat around food and protects microwave oven against splattering!

This Page Last Modified On 06/04/12