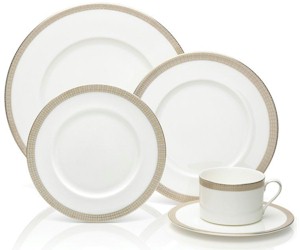 Woven Cable Gold Fine China by Mikasa
Woven Cable Gold Available Directly from Mikasa — Bring stylish, tailored elegance to your table with Woven Cable Gold. The intricately detailed woven design is accentuated by a sleek, contemporary shape. The detail of the pattern will impress your friends and family as they admire the fine taste. Perfect for upscale formal entertaining. Made of high quality bone china. Woven Cable Gold is not microwave safe due to the gold trim. Also available in Woven Cable Platinum.
Mikasa Woven Cable Gold was produced from 2009 to 2012. If you need replacement or additional pieces for your collection of Mikasa Woven Cable Gold, monitor this page on a weekly basis for new listings. If you are in a hurry, here's what's available right now for immediate purchase:
A place setting of Mikasa Woven Cable Gold includes: 11¼-inch dinner plate, 8¾-inch salad plate, 6½-inch bread & butter plate, 9-ounce tea cup and 6-inch saucer. The collection is available in: 5-Piece Set (1 place setting — Clearance Priced).