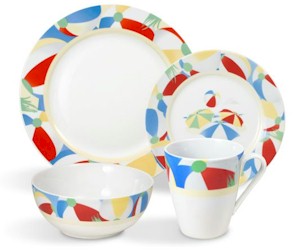 Pfaltzgraff Beach Ball
Beach Ball Available Directly from Pfaltzgraff — Introduced in 2012. Beach Ball captures the breezy feel of a summer day in a casual pattern that celebrates classic icons of the season. Colorful striped beach balls and beach umbrellas adorn this collection, bringing the summer fun to your tabletop. Microwave and dishwasher safe.
A place setting of Pfaltzgraff Beach Ball includes: 10½ Dinner Plate, 7½-Inch Salad Plate, 20-Ounce Soup/Cereal Bowl and 14-Ounce Coffee Mug. The collection is available in: 4-Piece Set (1 place setting); 16-Piece Set (4 place settings); 32-Piece Set (8 place settings); 48-Piece Set (12 place settings); and 64-Piece Set (16 place settings).
Pfaltzgraff Beach Ball Pattern Family