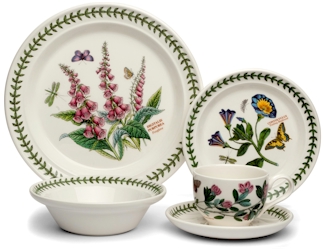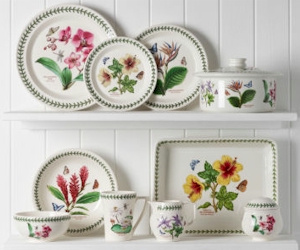 Botanic Garden by Portmeirion
Designed by Susan Williams-Ellis in 1972, Botanic Garden is a ground breaking pattern — over thirty different flowers adorn the collection. Each size of plate and cup is produced in a variety of different flowers and the whole mix and match pattern is unified by the unique style of drawing, the flitting butterflies and the distinctive leaf border. Botanic Garden has become one of the world's best selling tableware designs and is constantly changing with new motifs and products regularly added to the range.
The plants and butterflies that make up Botanic Garden are from exquisitely hand colored illustrations in the finest natural history books of the early 19th Century. Reproduced with true craftsmanship, these flowers have the brilliance and life they had when first painted over 150 years ago. Add a seasonal touch when mixed with The Holly & The Ivy. Microwave and dishwasher safe.
Portmeirion Botanic Garden Pattern Family