Microwave Cooking for One by Marie T Smith
Setting the Table: Glassware & Fine China
Waterford
The company of Waterford was first established in 1783 on land adjacent to Merchants' Quay in the heart of the Irish harbor town of Waterford. Its founders were two brothers, William and George Penrose, who were important developers and principal exporters in the city. Their vision was to "create the finest quality crystal for drinking vessels and objects of beauty for the home." More than two hundred years later, the reputation they established for creating glass of unsurpassed beauty and quality has transcended the intervening centuries.
In 1986 Waterford merged with Wedgwood, maker of fine china, to create an even broader luxury appeal. In addition to partnering with Wedgwood, Waterford also works with Reed & Barton to create classic silver-plated flatware and select ornaments.
Waterford Crystal designs, manufactures and markets an extensive range of crystal objects d'art, stemware and gifts for distribution throughout the world. In recent years, Waterford has built upon its reputation as a leading source of prestigious tabletop and gift products by expanding into several new businesses. Significant expansions into tabletop and gifts have occurred with the launch of the Marquis by Waterford, the addition of Waterford Fine China, Waterford Fine Flatware, and Waterford Holiday Heirlooms, and Waterford Table and Bed Linens. Each of those initiatives reflects the company's commitment to creating prestigious products — for gift giving, entertaining, and home decorating — whose classic designs transcend time
Today, Waterford's principal manufacturing plant stands on a 40-acre site on the outskirts of the city made famous by its glittering product. There are also two other manufacturing plants in County Waterford.

It is a very good cookbook and I have yet to find a recipe that didn't turn out as it was supposed to.—Norm Peterson, Arizona
My hubby keeps looking in the cookbook, and asks "when will you cook this recipe?"—Lori Hamby, Florida
Please note: There are several thousand external links throughout the pages of this site. To make navigating simpler for you, we have set up the links so that when you click on the first one, a new browser window will open. When you click on another link, the link will appear in the same window replacing the information of the first link (except eBay auctions, which open a new window with each item clicked on). This way, as you navigate through this site, you will not have to constantly keep closing browser windows. All links to other pages within this site will open in the current window. If a window does not open when you click on a link, check to see if you are running a pop-up blocker, which you may need to turn off in order for the new browser windows to open.
We do not actually sell items directly from this site. Instead, we have done all the work to find the microwave information you are looking for on the Internet, and consolidated it here at this site. When you click on a link for a product, you will be taken to the site that actually offers the product for sale. In some instances, we earn a small commission from the site you visit. This is how we are compensated for the work we have done to bring the information to you. Thank you for supporting this site by making your purchases via the links you click here.
Copyright © 1986, 2000-2013 Marie T. Smith and Tracy V. Grant, All Rights Reserved
[Home Page] [Site Directory] [Microwaving Tips] [Contents & Recipes] [About the Author] [More Recipes] [Shopping for Utensils] [Dinnerware] [Glassware] [Pantry] [Designer Corner] [Order Online] [Links]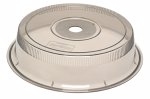 Nordic Ware Microwave Plate Cover — Concentrates heat around food and protects microwave oven against splattering!

This Page Last Modified On 06/17/12