Microwave Cooking for One by Marie T Smith
Shopping for Fine China
Waterford Fine China
Waterford Crystal designs, manufactures and markets an extensive range of crystal objects d'art, stemware and gifts for distribution throughout the world. In recent years, Waterford has built upon its reputation as a leading source of prestigious tabletop and gift products by expanding into the addition of Waterford Fine China.
Waterford Fine China Patterns
Caring for Your Waterford Fine China
These hand-detailed masterpieces have a family tradition of longevity when treated with loving care. Hard glazes give your china durability by design and relieve you of the need for excessive caution. They are, however, vulnerable to scratching by equally hard surfaces. Just as a diamond can be scratched and damaged by another diamond, so it is with fine bone china dinnerware. So be sure, when stacking plates, to separate them from one another by a soft cloth, pad or paper napkin that protects the entire surface, especially the rim. That small bit of insurance will keep the bottom of one plate from scratching the surface of another.
It is safe to wash your Waterford Fine Bone China in an automatic dishwasher as long as you load it with dishes fully secured and placed so that they do not touch each other. Do not wash at temperatures higher than 149 degrees Fahrenheit and use the "short wash" or "china and crystal" cycles. The rinse cycle should follow immediately to flush away detergent deposits that could form a film if they remain on the dishes too long. Recommended liquid dish detergents are Regular and Lemon Scented Palmolive. Standard safe powders are Cascade and Dishwasher All.
In hard water areas, deposits may form on your china if water is allowed to dry naturally on the plates. Such deposits can be readily removed with a vinegar solution or mild, acidic cleansing agent.
Since it is so lavishly embellished with gold or platinum, you must not place your Waterford Fine China in a microwave oven, where the intense heat will damage its high concentrations of precious metal.

It is a very good cookbook and I have yet to find a recipe that didn't turn out as it was supposed to.—Norm Peterson, Arizona
My hubby keeps looking in the cookbook, and asks "when will you cook this recipe?"—Lori Hamby, Florida
Please note: There are several thousand external links throughout the pages of this site. To make navigating simpler for you, we have set up the links so that when you click on the first one, a new browser window will open. When you click on another link, the link will appear in the same window replacing the information of the first link (except eBay auctions, which open a new window with each item clicked on). This way, as you navigate through this site, you will not have to constantly keep closing browser windows. All links to other pages within this site will open in the current window. If a window does not open when you click on a link, check to see if you are running a pop-up blocker, which you may need to turn off in order for the new browser windows to open.
We do not actually sell items directly from this site. Instead, we have done all the work to find the microwave information you are looking for on the Internet, and consolidated it here at this site. When you click on a link for a product, you will be taken to the site that actually offers the product for sale. In some instances, we earn a small commission from the site you visit. This is how we are compensated for the work we have done to bring the information to you. Thank you for supporting this site by making your purchases via the links you click here.
Copyright © 1986, 2000-2013 Marie T. Smith and Tracy V. Grant, All Rights Reserved
[Home Page] [Site Directory] [Microwaving Tips] [Contents & Recipes] [About the Author] [More Recipes] [Shopping for Utensils] [Dinnerware] [Glassware] [Pantry] [Designer Corner] [Order Online] [Links]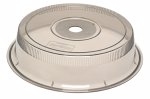 Nordic Ware Microwave Plate Cover — Concentrates heat around food and protects microwave oven against splattering!

This Page Last Modified On 06/29/12