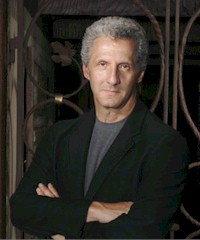 Joseph Abboud Dinnerware
Joseph Abboud, born of Lebanese parentage in Boston, began his fashion design career at Louis of Boston where he spent 12 years. In 1981 he made a move to Polo/Ralph Lauren where he later became Associate Director of Menswear Design. Eventually, Joseph realized he had his own unique style that had yet to be introduced to the market and was determined to share his vision. In 1987, he launched his own signature menswear label and quickly found a niche for his American neo-traditional approach to design.
His biography, Threads: My Life Behind the Seams in the High-Stakes World of Fashion, is his off-the-record take on fashion, from the inside out. With breezy irreverence, he looks at guys and taste, divas and deviousness, fabric and texture, and all those ties. He explains the process of making great clothes, from conception and sketch to manufacturing and marketing.
Over the years Joseph has been the official designer for The NBC Olympics and CBS's March Madness. In addition to men's clothing, he has designed cars for General Motors and Buick. And then, Joseph Abboud brings his sense of style to your table with his signature line of dinnerware patterns.
Joseph Abboud Retired Dinnerware Patterns
Joseph Abboud dinnerware is not currently in production. Accidents happen and when a piece of your favorite Joseph Abboud dinnerware breaks, it can be frustrating trying to find a replacement when you discover that your pattern has been discontinued. To help you with your search for replacement or additional pieces for your Joseph Abboud dinnerware collection, we have created this catalog of the discontinued Joseph Abboud dinnerware patterns. Just bookmark the page for your pattern, and check back once a week for new listings to add to your collection.
Did we miss your pattern? We'll be happy to create a page for your pattern. Just post your request at our Facebook Page or Google+ Page.