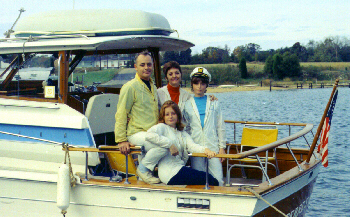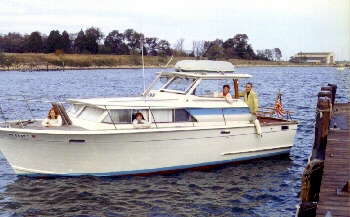 1970: Posing for Holiday Pictures. Various views of the family on the Terre S at Patuxent River Navy Base in Maryland.
Microwave Crab Casserole for One
This is a recipe I will never forget! While Leslie and I were growing up, we moved frequently because of Dad's career in the army. In 1968 we moved to Patuxent River Navy Base in Maryland so Dad could complete the Navy's rigorous nine-month test pilot school. After he graduated we stayed on for three more years when he became the Army Liaison Officer at the school. It was while we were in Maryland that Mom and Dad purchased our first boat, which was named the Terre S after Mom. Many weekends were spent cruising the Chesapeake Bay, and we soon became avid and successful crabbers. With all those crabs it was not long before Mom was making Crab Casserole on a regular basis, and it soon became a family favorite.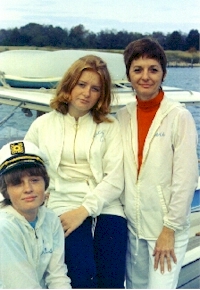 Leslie, Me and Mom
I'll never forget the microwave version of this recipe! One day Mom interrupted me while I was working to tell me she had a surprise for me. She had made me Crab Casserole for lunch. I eagerly left my work at the computer and rushed into the kitchen. I couldn't wait to taste Crab Casserole again. As we were living in Central Florida at this time just prior to the book being published, crabbing was a pursuit of the distant past. I sat down, eagerly anticipating the flavor that would soon tickle my taste buds. I took one bite, and immediately spit it out. "Yuck! That's awful," I exclaimed. That's when Mom confessed she had used me as a guinea pig for that attempt at creating the recipe. She had used canned crab instead of fresh or frozen crab just to see if it made a difference in the outcome of the recipe. Boy, did it ever! Mom apologized for tempting me and then disappointing me and promised to make me another Crab Casserole with fresh crab, which of course, she did.
One of the great features of Microwave Cooking for One is that the recipes are from scratch using fresh or frozen ingredients which makes for healthier — and tastier — results. So, be sure to use fresh or frozen crab when creating the recipe below. I can personally attest to the fact that it really makes a difference in the taste!
Crab Casserole
butter
1 small egg
¼ tsp. water
Butter custard cup. Break egg into cup. Puncture egg yolk with fork, then sprinkle with water. Cover cup with a glass lid (from another utensil) or plastic wrap. Cook 25 seconds (_____) at 100% power. Turn cup halfway around. Cook 20 seconds (_____) at 100% power until egg is hard cooked. (Autrotating oven: Eliminate turn.) Turn out onto small plate, remove and mash yolk on one side of plate, and chop egg white on the other side. Set aside.
2 tbsp. butter
½ tbsp. flour
¼ cup cream or half and half
2 tsp. mayonnaise
¼ tsp. prepared mustard
1/8 tsp. salt
1/16 tsp. pepper
Place butter in a 1-quart bowl and cook 45 seconds (_____) at 100% power to melt. Add flour, cream, mayonnaise, mustard, salt, pepper, and mashed egg yolk. Mix well with wire whisk. Add chopped egg white.
4 oz. (½ cup) cooked crab meat*
¾ tsp. sherry
Add crab meat and mix with rubber spatula. Add sherry, mix well, then pour into petite pan or grab it bowl.
1 tbsp. butter
2 tbsp. bread crumbs
Place butter in custard cup and cook 30 seconds (_____) at 100% power to melt. Add bread crumbs and mix with small fork. Sprinkle bread crumb mixture on top of crab mixture in petite pan. Cook 2:00 minutes (_____) at 100% power. Turn cup halfway around. Cook 2:00 minutes (_____) at 100% power. (Autrotating oven: Eliminate turn.) Let stand one minute before serving.
* A 6 oz. defrosted package of frozen crab meat yields 4 oz. (Defrost for 5:00 minutes). 3 or 4 cooked whole crabs yields 4 oz. of crab meat. (See recipe in Microwave Cooking for One to cook live crabs in the microwave.)
NOTE: Cooking times are for a 700-watt oven. For best results with this and any other microwave recipe, please be sure to go to the Timing Section of Microwaving Tips for a complete explanation of timing in the microwave.