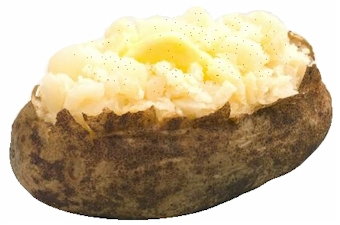 Microwave Baked Potato
Potatoes are high in vitamin C, fat-free, cholesterol-free and are an excellent source of fiber with the skins on. In addition to also being delicious, potatoes are easily prepared in the microwave!
If you're a big fan of potatoes, you will enjoy a visit to Potatoes Goodness Unearthed for some quick and easy meal solutions using potatoes. This site from the United States Potato Board is chock full of recipes and nutritional information about potatoes. From fun trivia to information about potato varieties and storage information, you will learn things like:
Potatoes come in many different colors: red, blue, purple and yellow.
Why potatoes are referred to as "tubers."
Why potatoes sometimes turn green.
The potato was the first vegetable to be grown in space.
Do you need a special utensil to cook a baked potato in your microwave?
No! The easiest way to cook a baking potato in the microwave is directly on the microwave oven tray without any utensil at all.
Rather than just provide the instructions for cooking a baking potato, we are including the recipe for Stuffed Baked Potato from Microwave Cooking for One by Marie T Smith. The first step of the recipe contains the instructions for baking a potato in the microwave.
Stuffed Baked Potato
Scrub potato clean and pierce through with large two-tined fork. Place potato on oven tray or bottom of oven. Cook 1 minute (_____) at 100% power. Turn potato over and halfway around. Cook 1 minute (_____) at 100% power until potato is tender when pierced with a toothpick. Cut potato in half lengthwise. Scoop out inside with small spoon and place in bowl.
½ tbsp. butter
1½ tbsp. half and half
1/8 tsp. salt
dash of black pepper
Add butter, half and half, salt, and pepper to bowl. Mix with potato masher, then beat with wire whisk until creamy. Place potato skins in Menu-ette Skillet and fill with potato mixture.
¼ ounce grated cheddar cheese
1/8 tsp. paprika
Sprinkle cheese over stuffed potato halves, then sprinkle with paprika. Set aside until rest of meal is prepared.
Final preparation: Cook 35 seconds (_____) at 100% power until cheese melts. Let stand 1 minute (_____) before serving.
When serving two people, use an 8-ounce potato and serve a half to each person. Remember to double the cooking times.
Important! Moisture will condense on the glass oven tray as potato cooks. To avoid superheating the moisture, which may cause the glass tray to crack, always wipe tray dry before putting another utensil in the oven and cooking.
NOTE: Cooking times are for a 700-watt oven. For best results with this and any other microwave recipe, please be sure to go to the Timing Section of Microwaving Tips for a complete explanation of timing in the microwave.