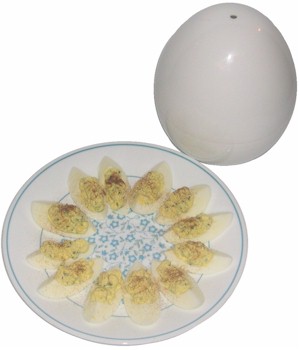 Hard Boiled Eggs in Shell in the Microwave to Make Deviled Eggs
The Microwave Egg Salad Sandwich shows you how you can hard cook an egg in the microwave, but what if you want to cook eggs in their shells so you can make deviled eggs? Yes, it is possible to do if you make an investment in a reasonably priced utensil designed by Nordic Ware called the Egg Boiler. It is specifically designed for cooking eggs in their shells in the microwave and is available for a reasonable price at Amazon. You can also use this utensil to make soft-boiled and medium-boiled eggs.
A little trial and error is required when first using the Egg Boiler. Cooking times in the instructions were lower than they should be and needed to be increased to get a good hard boiled egg. You can cook 1, 2, 3, or 4 eggs at once. The cooking times remain the same no matter how many eggs you are cooking at one time. We recommend you start by using only one egg until you determine the correct timing for your microwave oven. Once you've nailed down the correct timing, then cook more eggs at one time. Just remember to make note of the correct time for your microwave for future use. If you're going to cook a second batch immediately after the first, be sure to rinse the entire unit under cold water until it cools down and dry with a towel, before starting the process again.
Our first attempt to make hard boiled eggs for the deviled egg recipe resulted in the yolks settling too low in the bottom of the eggs. We resolved this problem by dividing the cooking time. We placed the eggs upside down in the Egg Boiler for the first cooking portion, then flipped them over for the remaining cooking time. The Egg Boiler gets extremely hot so potholders and caution should be used when removing it from the microwave. Do not puncture eggs or used cracked eggs in the Egg Boiler. The whites and yolk will just seep out of the shell during the cooking process, much as they do when you boil a cracked egg on your stovetop.
For college students, living in a dorm room with a microwave and refrigerator, this is an excellent utensil for them to use to cook themselves a delicious egg before taking off to class in the morning. Visit our Nordic Ware section for more handy microwave utensils from this innovative company.
Below is our recipe for Deviled Eggs, including the instructions for using the Egg Boiler, followed by a photo diary of how we prepared the recipe. Usually, deviled eggs is a treat we only enjoy at parties and family gatherings because most recipes require that you use a dozen eggs and its quite a bit of work and time consuming using conventional cooking methods. Doesn't seem worth the time and effort for a two-person household. We found this recipe using three eggs ideal for two people, and will make deviled eggs more frequently now that we can do put them together in less time than the conventional method.
Once you've learned to make hard boiled eggs in the microwave, take some of that time you've freed up to visit The Incredible Edible Egg website where you'll find nutritional information for eggs, lots of interesting facts, interactive games, and fun trivia, like:
To tell if an egg is raw or hard cooked, spin it. Because the liquids have set into a solid, a hard-cooked egg will easily spin. The moving liquids in a raw egg will cause it to wobble.
You really can have egg on your face. As egg white tends to be drying, it has long been used as a facial. Egg yolks are used in shampoos and conditioners and, sometimes, soaps. Cholesterol, lecithin and some of the egg's fatty acids are used in skin care products, such as revitalizers, make-up foundations and even lipstick.

Microwave Deviled Eggs
3 extra-large eggs
1½ cups tap water
Remove aluminum insert from plastic base of egg boiler. Fill base up to "water level line" with water. Replace aluminum insert and place eggs upside down in dented cups. Cover with plastic top so that it snaps shut. Cook 6 minutes 15 seconds (_____) at 100% power. Carefully remove plastic top using pot holders (it will be extremely hot). Using tongs turn each egg right side up. Replace top. Cook 6 minutes 40 seconds (_____) at 100% power.
Let Egg Boiler stand for two minutes to allow for residual cooking. Briefly run eggs under cold water to stop further cooking.
Peel shells from eggs. Cut eggs in half. Cut halves in half.
1 tbsp. mayonnaise
¼ tsp. dry mustard
¼ tsp. chopped chives
1 tsp. finely chopped parsley
Paprika
Remove yokes from eggs and place in mixing bowl. Add other ingredients, except Paprika. Mix well.
Use a spoon to fill each egg white center with the yolk mixture, or if you want more decorative eggs use a cake decorator or pasty bag.
Garnish with Paprika.
Refrigerate for two hours (_____) to allow flavors to blend. Serve.
NOTE: Cooking times are for a 700-watt oven. For best results with this and any other microwave recipe, please be sure to go to the Timing Section of Microwaving Tips for a complete explanation of timing in the microwave.
Photo Diary of Recipe Preparation

(1) Fill base with water, replace aluminum insert, cover and microwave.

(2) Peel shells from eggs. Cut eggs in half and then in half again.

(3) Mix yokes with other ingredients.

(4) Fill egg whites with yoke mixture. We used a cake decorator.

(5) Garnish. Refrigerate. Serve.
Click on an image to see a larger picture. You may need to turn your pop-up blocker off.