Microwave Beef
Below the list of recipes contained in the Beef chapter of Microwave Cooking for One, is one recipe for you to enjoy. Take some time and explore the other chapters. Once you've tried a few of the recipes, you'll want the entire collection!
Chili
Ground Beef Goulash
Ground Beef Drambuie
Beef and Beans
Corned Beef and Cabbage
Stuffed Cabbage
Stuffed Green Pepper
Meatloaf
Eggless Meatloaf
Gourmet Meatloaf
Tomato Sauce Meatloaf
Swedish Meatloaf
Salisbury Steak and Gravy
Easy Basic Roast
Rib Roast
Roast with Mushrooms
Buttermilk Pot Roast
Steak
Steak and Mushrooms
Steak and Onions
Italian Steak

2 oz. carrots, cut into ¼-inch slices
¼ cup water
2-oz. baking potato, cut into ½-inch cubes
Put carrots and water into Cook 'N' Pour Pan. Cover with lid. Cook 2:00 minutes (_____) at 100% power. Add potato and replace lid. Cook 3:00 minutes (_____) at 100% power.
2 oz. cooked meat (steak left over from a restaurant meal will do)
1/3 cup water or leftover gravy
½ beef bouillon cube
1/16 tsp. salt
1 tsp. all-purpose flour
Cut meat into ½-inch cubes and add to pan. Add water, bouillon, salt and flour to pan and mix well. Replace lid. Cook 1:00 minute (_____) at 100% power.
1 oz. (¼ cup) fresh or frozen peas
Stir in peas and replace lid. Cook 1:00 minute (_____) at 100% power. Let stand 2 minutes. Pour into soup bowl and stir.
NOTE: Cooking times are for a 700-watt oven. For best results with this and any other microwave recipe, please be sure to go to the Timing Section of Microwaving Tips for a complete explanation of timing in the microwave.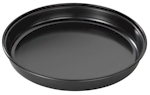 Microwave Crisper Pan — Versatile crisper pan keeps foods crisp, even when reheating leftovers. Durable, non-stick metal alloy heats to high temperatures for oven-quality results in the microwave. Ideal for bacon, pizza, fish, fries and more. Non-slip footed bottom protects surfaces. 1½" high x 9¾" diameter. Hand wash.