Microwave Cakes and Frostings
Below the list of recipes contained in the Cakes and Frostings chapter of Microwave Cooking for One, is one recipe for you to enjoy. Take some time and explore the other chapters. Once you've tried a few of the recipes, you'll want the entire collection!
Cornbread
Sugar & Spice Apple Cake
Apple Streusel Cake (recipe available)
Banana Cake with Whipped Cream Topping
Blueberry Streusel Cake
Carrot Cake with Cream Cheese Frosting
Cheesecake
Italian Cheesecake
Chocolate Buttermilk Cake
Chocolate Sauerkraut Cake with Chocolate Sour Cream Frosting
Coffee Cake
Lemon Cake with Lemon Juice Topping
Pound Cake
Rhubarb Pudding Cake
Shoo-Fly Cake
Spice Leftover Cake with Glossy Chocolate Icing
White Cake with Milk Chocolate Frosting

1 small egg
¼ cup sugar
¼ cup graham cracker crumbs
2 tbsp. finely chopped walnuts or pecans
Place all ingredients in 2-cup liquid measure. Beat with electric mixer until well mixed. Pour into 1-pint Menu-ette*. Cook 1:50 minutes (_____) at 100% power, giving Menu-ette a half-turn halfway through cooking time. (Autorotating oven: Eliminate turn.) Let stand 10 minutes to cool.
vanilla ice cream or whipped cream
Turn out onto plate. Serve topped with vanilla ice cream or whipped cream (see recipe).
NOTE: Cooking times are for a 700-watt oven. For best results with this and any other microwave recipe, please be sure to go to the Timing Section of Microwaving Tips for a complete explanation of timing in the microwave.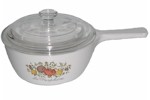 The CorningWare Menu-ettes are especially helpful when cooking for one in the microwave.
Search for 1-Pint and 1½-Pint Menu-ettes Available at eBay