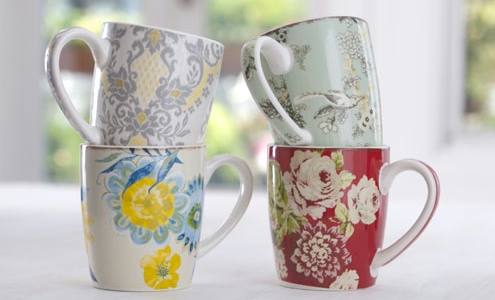 Waverly
Waverly is a premier home fashion and all encompassing lifestyle brand and one of the most recognized names in home furnishings. Its signature look is expertly translated into countless classic styles among home furnishing products including dinnerware, fabrics, wall coverings, bedding, window treatments, and decorative accessories.
A maker of exclusive European fabrics, F. Schumacher & Co. launched Waverly in 1923 to bring home décor to American consumers who desired accessible style. The first collection consisted of eight patterns by American designer Cy Clark and its instant popularity led to a rapid expansion of the line. The company registered the name Waverly Bonded Fabrics in 1926. Hence, the Waverly name has been synonymous with the American home since the roaring twenties.
Waverly added coordinating wallpapers to its line in 1939. The launch of the Waverly Home Fashions division in 1951 brought its fabric collections to a gamut of home furnishings. The "Waverly Signature Look," including the company's famous Glosheen chintzes, florals, stripes and plaids became synonymous with American décor, evolving into a legacy which represents quality and timelessness.