World's Saddest Cookbook?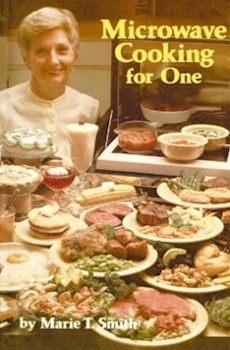 Have you seen the joke going around the Internet claiming that this is the saddest cookbook ever written? Perhaps that is what brought you to this site. Several people have asked me if I'm upset about people making fun of my mother's cookbook. My response is: No! I appreciate all the traffic to our website the various posts around the Internet have generated. However, I also feel an obligation to add some clarification.
Mom spent 10 years developing and kitchen testing the almost 300 recipes. She died in 1987, two years after she enjoyed seeing her labor of love published. Mom developed the book because she foresaw that we would become a society of smaller households (one or two people), especially when the baby-boomers' children grew up and left the nest. Over thirty years ago, Mom believed that there would be a need for this type of book years into the future. It is a testament to her foresight that Microwave Cooking for One is still in print after all these years, when other microwave cookbooks from that era have long been out of print.
Most recipes in cookbooks are written for four or six people. Have you ever tried to take a recipe for four, and divide it in half to make a meal for two? It doesn't come out right. However, if you start with a recipe for one from Mom's book and double it, you can easily make a delicious meal for two ... and fast in the microwave just by also doubling the cooking time.
I invite you to visit the Contents & Recipes section and try doubling a few of the recipes, and then tell me again how sad this book is. The Stuffed Shrimp recipe is one of my all-time favorite delicious meals! I made it for my husband when we were dating and he was amazed at my culinary skills. I didn't tell him it wasn't my skills as much as it was how easy my mother's recipe was to follow and double.
People from all walks of life and for a myriad of reasons live alone. Microwave Cooking for One was my mother's gift to them to help make their lives better. At the time Microwave Cooking for One was published in 1986, Mom was volunteering for an organization that worked with displaced homemakers; women who for a variety of reasons, found themselves alone after years of caring for their families. She felt strongly that food is the center of life, and that these newly single women deserved to take care of themselves as they had for others for so many years. So she invited these women into her home and gave them an all-day microwave cooking class, teaching them 30 basic microwave recipes.
I understand how people who have never lived alone can look at the title of the book and laugh. But the truth is that whether by choice or circumstance there are a lot of people in our society who are faced with the task of cooking just for themselves. Microwave Cooking for One is the tool they need to conveniently prepare healthy meals fast and economically.
If you are in a relationship, you may laugh in relief that this book is not for you (although it easily could be ... just multiply the recipes), I know that many people who can use this book have found it thanks to all the jokes. For that, I am sincerely grateful!
Tracy V. Grant