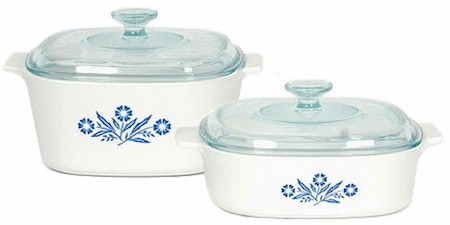 Discontinued & Vintage CorningWare Patterns
Over the years, CorningWare has created coordinating casseroles and other bakeware to match its popular Corelle and CorningWare dinnerware patterns. There have also been stand alone patterns that never had matching dinnerware. If you are looking to add to your collection, here are many of the patterns we've been able to identify. Made of CorningWare's durable stoneware material, which resists chipping and cracking, CorningWare is designed for use in the microwave, oven, refrigerator, and freezer. Some Corelle dinnerware patterns had matching casseroles and bakeware made in Pyrex rather than CorningWare. Information about Vintage Pyrex patterns is available in the Pyrex section of this site.
Did we miss your favorite CorningWare pattern? We'll be happy to create a page for you. Just post your request at our Facebook Page or Google+ Page.
Accidents happen and when a piece of your favorite CorningWare breaks, it can be frustrating trying to find a replacement when you discover that it has been discontinued. To help you with your search for replacement or additional pieces for your CorningWare collection, we offer the following pages. Just bookmark the page for your collection, and check back once a week for new listings.
Vintage CorningWare Bakeware Patterns

Discontinued CorningWare Collections


CorningWare Cleaner & Conditioner — Specialty formulated to clean, polish and protect your CorningWare cookware & bakeware, Pyrex, Corelle, Visions Cookware, and other glass and ceramic cookware and bakeware. Great for stainless steel sinks and kitchen countertops. Made with a blend of natural mineral microabrasives and gentle biodegradable soaps and surfactants. Made in the USA. 16 ounces.